Join us for an opportunity to continue your lifelong learning path in agricultural and rural leadership, network with leaders from around the globe, and experience farming at the water's edge in Delaware and Maryland.
Early bird registration for the 4-day meeting is available through July 1 for $325 per person. After July 1, registration increases to $375 per person. There is the option to register for a single day of the meeting or to attend the Welcome Dinner on Monday August 1st only. All registration closes July 18th.
Meeting registration does not include hotel room reservation. Hotel rooms must be reserved separately. See Below.
Historic Inns of Annapolis
58 State Circle, Annapolis, MD 21401
1-844-656-8640
The Historic Inns of Annapolis is also extending their much discounted rate of $150 per night plus tax/fees. And for those who want to make a great vacation, Friday and Saturday nights are now only $250 a night plus tax/fees. To make a reservation, please call the hotel directly at 410-216-6328 (Mon. – Fri. 8 a.m. – 4 p.m.) and ask for Jaime Jones.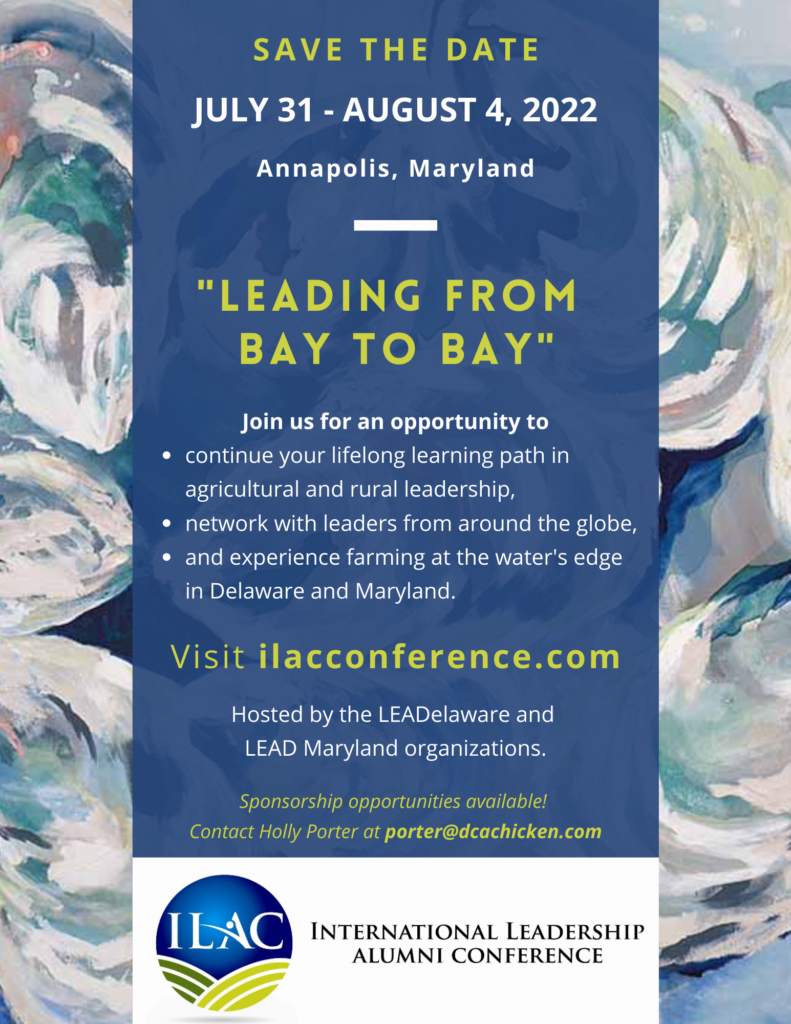 On behalf of the entire ILAC 2022 Host Committee, I'm excited to be sharing with you an opportunity to take a deep dive into the diverse ag industry that can be found in Maryland and Delaware all the while learning about the tremendous efforts our producers take to ensure a thriving farm economy and a healthy environment coexist throughout the region's landscape.

Mark your calendars for July 31 – August 4, 2022 when LEADelaware and LEAD Maryland will be hosting the International Leadership Alumni Conference (ILAC). The conference will be hosted out of Annapolis, Maryland and we will be sharing how our producers are "Leading from Bay to Bay."

To get a better idea of potential attendance, would you mind taking a few moments to complete this brief survey?  Please click here. 

To learn more about the conference hotel's group rate and amenities, as well as its historic downtown Annapolis location, please click here.

For additional questions, don't hesitate to reach out via email to me at [email protected].

Thanks so much and we hope to see you Annapolis!

Kurt Fuchs
ILAC 2022 Host Committee
LEAD Maryland Class IV